Anaesthesiology is an art of science like a tight rope walk to maintain the normal homeostasis of the patient with or without multiple co-morbidities and make him/her unconscious and pain free during surgery using multiple drugs in titrated doses and provide an optimized state for the surgeon to complete the surgery and revert back to regain consciousness and the normal physiology.
The anaesthesia department is managed by qualified and experienced faculty with latest workstations, drugs and monitoring devices in all operating theatres. The Anaesthetist is like a captain of a ship who manages an organised team and assists in carrying out the surgery successfully. Anaesthetist is involved in
Pre anaesthetic evaluation of the patient to make an appropriate plan of anaesthesia.
Perioperative management without any complications and complete the surgical procedure successfully.
Post operative monitoring, support and pain management in the immediate post operative period for 24 to 48 hrs.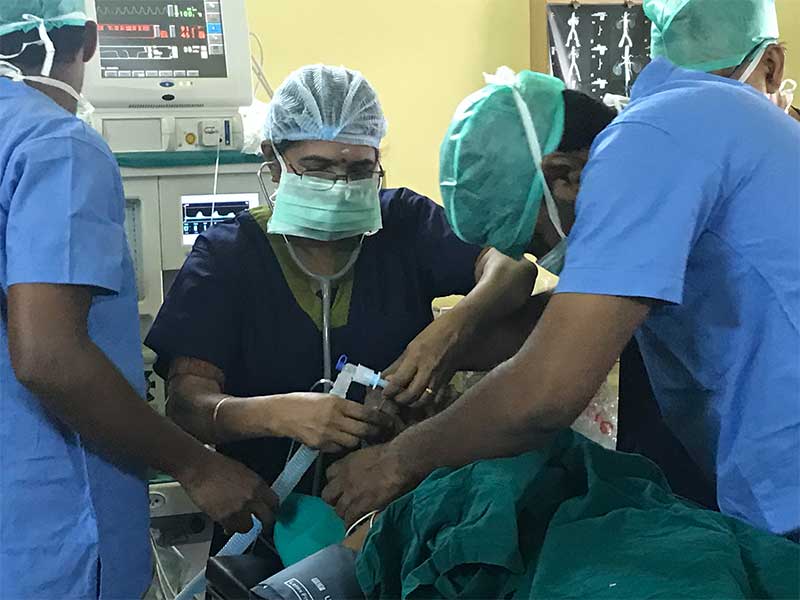 To provide Anaesthesia for all type of surgeries both elective and emergency
To provide anaesthesia for super speciality cases like cardiothoracic, neurosurgery, paediatric surgery and laparoscopic, other endoscopic and transplant surgeries.
To organize teaching programmes for the post graduates , undergraduates &
nursing students.
To provide training to the CRRI's to tackle emergencies in the casualty and do resuscitation including CPR & airway maintenance.
To give Respiratory care in all Intensive care units for the needed patients including Mechanical ventilation.
To provide care outside the OT like for MRI and CT scan in unconscious /
uncooperative patients.
To provide anaesthesia for CATHLAB procedures including device closure.
To provide anaesthesia for the patients getting modified Radiotherapy.
To provide high quality anaesthetic services to all patients posted for surgery without any complications and give a comfortable post surgical period.
To give practical training to the post graduates and conduct theory classes.
To give pain relief in the pain clinic and palliative care for the terminally ill patients.
| Specialty | No. of OTs |
| --- | --- |
| Cardiac Surgery | 1 |
| OBGYN | 2 |
| General Surgery | 2 |
| ENT | 1 |
| Orthopaedic Surgery | 2 |
| Neurosurgery | 1 |
| Endoscopy/Laproscopy | 1 |
| Ophthalmology | 1 |
| Septic OT | 1 |
| Emergency OT | 1 |
| Minor OT | 6 |
All the theatres have latest work stations for administering General Anaesthesia with multi para meter monitors having ECG, SPo2, ETCO2, Respiratory rate, NIBP, IBP, Temperature Monitoring facilities, Infusion pumps, Warmer & Defibrillator.  The cardiothoracic OTs also have anaesthesia gas analyzers, BIS monitors, and Trans-oesophageal Echocardiography.
Nerve locator to perform Nerve blocks
Peripheral nerve stimulator to monitor neuromuscular blockade.
Portable Ultrasound for Central Venous cannulation as well as Nerve blocks.
Mobile Ventilators.
MRI compatible Anaesthesia work station.
Fibre-optic bronchoscope for difficult intubations and Tracheal lavage.
Video laryngoscope for difficult intubation.
Live surgical demonstration videos for students from outside theatre.
Museum
Department library.
Lecture classes (total 16) for the Final MBBS (8th semester) with topics including
Introduction to Anaestheisa
Pre operative preparation
Pre medication
Gen anaesthesia
Regional anaesthesia
Peripheral nerve blocks
Oxygen therapy and airway management
Local anaesthetics
Intravenous anaesthetics
Inhalational anaesthetics
Anaesthesia equipments
Acute Respiratory Distress Syndrome
Quiz programmes
Nursing students as per the UNIVERSITY regulations.
BLS & ACLS training for MBBS students
Lectures
Seminars
Journal club meetings
Clinical Society meetings
Case /Thesis discussions
Interdepartmental meeting
Monthly clinical & theoretical Internal assessment
Faculty as Speaker/Guest Lecturer
All faculties are speakers in Regional conferences, Dr. Prashanthan in state conference and Dr. Thavamani in state and national conferences.